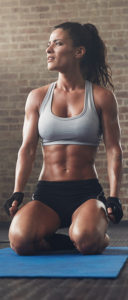 Core strength is the unsung hero of a fighter's physical development. It is the link in the chain that transfers strength and power from the legs to the arms and fists.
It is the central platform that provides stability to a fighter's defensive movements.
It is the engine that powers a fighter through round after round of constant motion.
In every aspect of the game the success of a boxer relies on core strength.
Read on to learn how core strength fuels your in-ring performance. You can also see what kinds of exercises will help you build your core for maximum benefit in the ring. Continue reading "Core Strength Training – Boxing from Your Center"