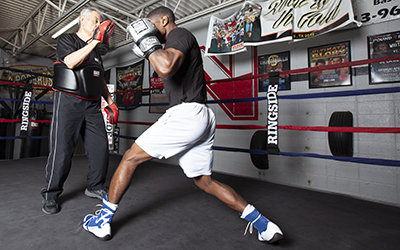 Introduced relatively recently, Punch Mitts have become a critical training tool for coaches and fighters throughout the boxing and martial arts world.
But you can't just hang Punch Mitts from the ceiling. Someone has to hold them for a fighter. And that someone could be you.
If you want to learn the art of properly holding those mitts, then read on. We put together a list of seven fundamentals for creating a great mitt-work experience.
1. Discuss Goals/Plan with Puncher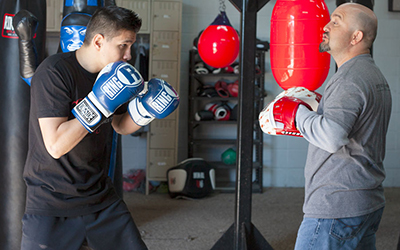 As we've discussed before, you need to have specific goals when heading into training sessions like this. Unlike heavy bag work, Punch Mitts offer the fighter a lot of different options. Will you focus on rhythm and accuracy, reaction drills, maintaining defense, or simulating an upcoming opponent?
Knowing what you and your partner want to accomplish with this training, sets the tone for how you work the mitts.
Since this is a partner training drill, though, you have to make sure that you discuss this plan with your partner. The fighter you work with needs to know what to expect from the training session to get the most from it.
2. Position the Mitts Properly
Punch Mitt training should help a fighter prepare for an actual match. So, when you hold the mitts, they need to simulate punching an opponent as much as possible.
Keep the mitts close in to your body's silhouette. You might feel more comfortable with the mitts nowhere near your face or body, but that won't provide your fighter the best training. And always keep your elbows in close to your body.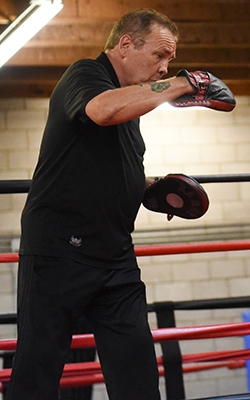 For straight punches, keep the mitts at about forehead height, just to the left or right of your head, and a few inches in front of you. The mitts should be angled inward slightly.
For hooks, turn the pad inward so that it is almost perpendicular to your body. Hold it at about eye-height for head shots or at rib height for body shots.
For uppercuts, the pad should face the ground, though you can angle it up slightly. Hold it about chin height.
3. Push Back Against the Punch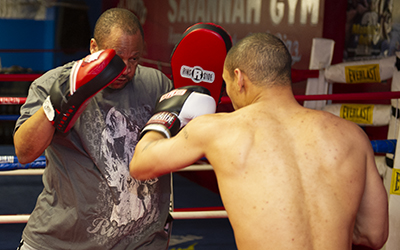 You don't want to just hold your arm up limply and wait for the pad to get hit. That will send your arm flying all over the place, strain your elbow and shoulder, and put unnecessary stress on the fighter's joints as well.
When holding the mitts, you need to provide resistance to every hit. The easiest way to accomplish this? Push back against the punch as it comes in to meet the mitt. This could mean moving toward the glove by up to an inch or two to close that distance.
Pushing back against the punch will help protect everyone's joints. It also provides the fighter with tactile feedback and helps you develop a rhythm for the mitts.
4. Get into a Natural Fighting Stance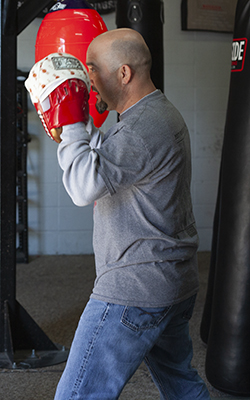 When you hold the Punch Mitts for someone you don't just use your hands and arms. When you throw punches, you use your whole body. The same is true for when you catch punches.
Make sure that you are prepared by getting into a comfortable fighting stance. You should be well-balanced and braced for impact for each punch. A fighting stance gives you that stability, while leaving you the flexibility to easily move in any direction.
5. Make your Fighter Move
The fact that you can move around the ring sets you apart from a stationary device like a heavy bag or wall bag. So USE that ability.
Once you and your fighter feel warmed up and comfortable, use your feet to force your fighter to use theirs. You have the entire ring and the entire gamut of footwork options to choose from, so mix it up. Start by working your way forward to force your fighter to back up. Then swing out to the side, to get your fighter to pivot. Back up and get your fighter to advance.
Remember, you set the tone here, so find ways to get your fighter to use all their movement abilities.
6. Give Feedback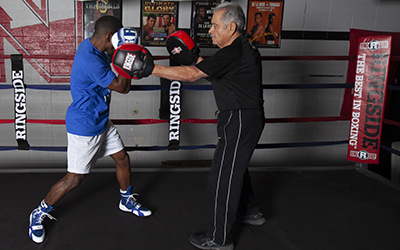 You don't want to spend an entire session on the pads telling your partner everything you see. For the most part, any observations or recommendations can wait until the end of the session.
But you can work feedback into the session as things come up.
The fact that you can reach out and tap your fighter with the Mitt will help correct certain defensive shortcomings more than endlessly chanting, "Keep your guard up!". When you see it, tap them.
Because you control the flow of the session, you also have the ability to focus in on areas that appear to need extra work. For example, if your fighter struggles to land a particular combination or transition, you can focus in on that issue. Run through those exercises for a while until you feel ready to move on.
7. Adjust your Speed
More than anything else, you control the challenge level of mitt session by controlling the speed. So make use of that control throughout the session.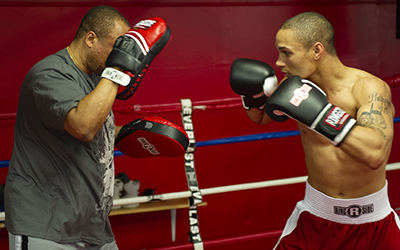 Start things off slow, to get you both warmed up. This also allows you to make adjustments to your distance and positioning. When you are both ready, then take it up to whatever you have established as "full-speed" for the two of you.
As training continues, you may find your fighter needs more of a challenge in some areas, and more development in others. Adjust the speed, up or down, as necessary to keep the workout just challenging enough to be valuable, but not so challenging that it becomes frustrating.
Conclusion
If you follow these seven tips, then you can give your training partner a great experience on the mitts. Don't worry if you don't get it all perfect right out of the gate. Perfecting your mitt holding ability take time and experience–just like punching. But once you dial in the feel for it, you will become an invaluable training partner for anyone at your gym.