Working out tends to be easier when we have a plan, a routine. But what happens when it's time to travel away from home. Whether it's a vacation or a work trip, we often fail to keep up on our workouts while traveling. If you've got a trip coming up, though, don't worry about throwing a wrench into your training plans. We've got a few tactics that will help keep your training on track when you're off your beaten path.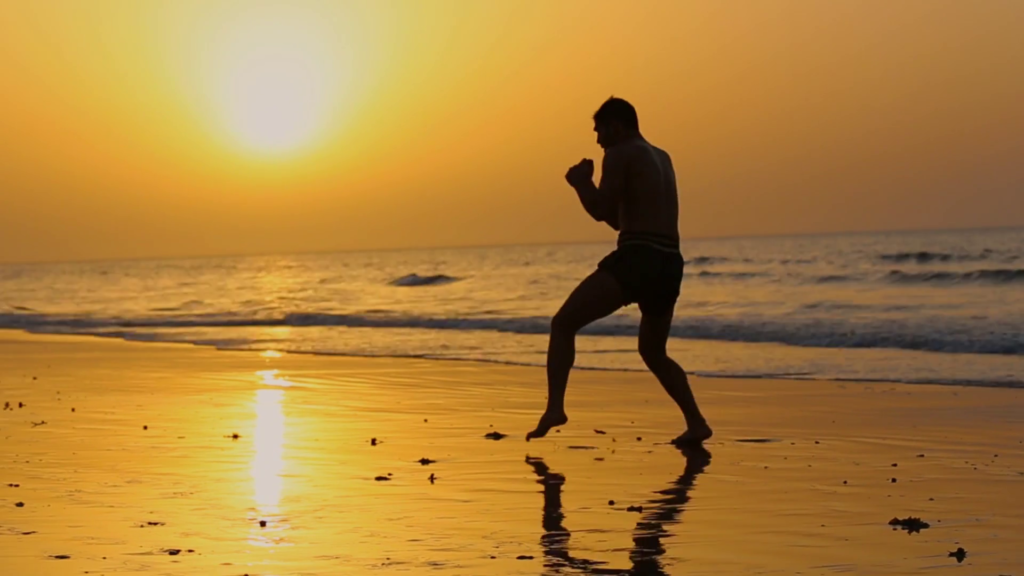 Research Your Travel Workout Options
The first step to an uninterrupted training when you hit the road, is research. Find out as much as you can about your destination ahead of time. If you know what kinds of resources are available, then you can start to plan accordingly.
Find Local Training Facilities:

If you want access to a heavy bag or sparring ring while you're away, the best option is to find a local gym for boxing, MMA, BJJ, or any other sport that you focus on. Reach out to someone there before your trip. Let them know what you're training goals are. Ask about stopping by for a workout while you're in town. Our sports have such a great community, chances are that you'll be welcomed.

Look into Fitness Center Access

: Even if there are no gyms around that are tailored for your sport, there's almost always a fitness center nearby. Many gyms offer single day guest passes for out of town visitors. Some might even provide you with free access if you live in an area where that gym has a location. If you're staying at a hotel, you can also check to see if it has a fitness center. Hotel fitness centers don't always offer a lot options, but they usually have the basics. They will do in a pinch, especially if the local weather won't allow you to exercise outside.

Rent a Bike to Get Around:

One of our very favorite ways to get exercise while visiting new places is to hop on a two-wheeler. These days, just about every major metropolitan area, from Boulder to Cleveland to Honolulu,

offers an affordable public bike-sharing system

, which means you can save on transportation while getting exercise at the same time. What if your destination doesn't do bike-sharing? You can still usually find the traditional bike rental businesses. They seem to be be everywhere!
Plan for How You Will Workout While Traveling
Now that you know what resources are available, it's time to make a plan. If you're already on a specific training program, you probably have goals you want to meet. If you take the time to plan your workout activity, you can ensure that you won't take a step back in meeting those goals.
Make Time for Your Workouts:

It doesn't matter why you're traveling, you will need to look at your itinerary and make time for your training. Whether you plan to grab a run before you grab breakfast or hit the heavy bag before you hit the sack, it's important to know what you're going to do and when you're going to do it. This is the only way to make sure that you don't miss a day of training.

Consider Travel-Friendly Alterations to Your Routine:

One of the easiest ways to make your travel workout easier to stick with, is to alter your routine to be less equipment-intensive. If you don't need heavy equipment (like squat racks and treadmills), then you open yourself to a lot more options.

Bodyweight exercises

are a great way to keep your strength training up without the weights. Push ups, squat jumps, burpees, lunges, and seated dips are all ways to bring high intensity strength training without the equipment.

Keep Tracking your Progress:

Just because you're not in your normal routine doesn't mean you should abandon your tracking efforts. Track your diet, your steps, your exercise, and your sleep especially when you're not on your normal schedule. This will help keep you accountable, so you don't go too far off the rails. It's far too easy to do when you're away from home, especially when you're headed someplace known for good food. Most likely, you'll be surprised at how active you are without even knowing it, especially if you're touring a city or spending a lot of time walking or swimming at the beach.
Pack What You Need to Make Travel Workouts Possible
Now that you have a plan, it's time to pack the essentials. And while a toothbrush and clean underwear are always a good idea, we've considered a few more items that you won't want to leave home without.
Take the Gym With You:

Your very best bet for ensuring that you never miss a workout is to pack your gym equipment bring it with you. Sound crazy? Not if you know what to bring. Forget about heavy weights and stationary cardio equipment. Instead, try these portable essentials:

Jump Rope – At a minimum, jumping rope can be an intense cardio workout and you don't need much room to do it. It can also be a great way to keep up your footwork training.
Resistance Bands – These items take up almost no space and weigh very little. But they deliver amazing muscle building performance. Almost any strength-building exercise can be modified to use resistance bands.
Packable Yoga Mat – The yoga mat is great for performing yoga, obviously. Because of the non-slip surface, however, a yoga mat provides a reliable surface for performing a variety of body-weight exercises. Bring this with you, and your feet won't slide out from under you while you do your lunges.
Bring the Right Apparel:

If you've already planned some dedicated training time, then it goes without saying that you'll pack a few sets of work-out clothes and your gym shoes. But what if you were comfortable breaking a sweat in your "regular" clothes? There has been an

uptick in the performance-focused casual clothing market

. Companies are now producing stylish clothes using technical fabrics that protect you from the sun, wick away sweat, and help regulate temperature–what they're calling "athleisure" wear. So if you're wardrobe is able to blend comfort and performance, then you'll be able to blend exercise into any part of your day, even if you don't have your gym shorts with you.
Enjoy the Ride
There's no doubt that it's easy to knock yourself completely off track, when you travel. But it's not inevitable. Spending a little time before you leave home to do some research will pay dividends later. With a plan in place you won't worry about "catching up" on lost training when you get home.