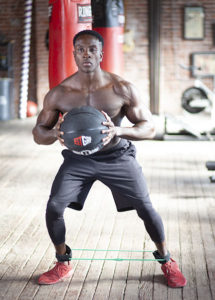 A lot of boxing training is oriented on what's in front of you. Running, jumping rope, shadow boxing, bagwork–all of it tends to focus primarily on linear movement forward and backward.
But when you're in the ring, you don't just move up and back, you step in all directions. And that's where agility training for boxing comes in.
Agility training teaches your feet to step quickly and smoothly out to the side, without losing your balance. It also builds up the muscles that support these movements to reduce the risk of injury.
If you want to be able to slip and slide in all directions around the ring, then you need to incorporate some form of agility training into your routine. Continue reading "Boxing Drills: Agility Training for Boxing Footwork"