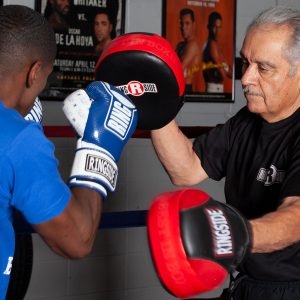 Punch mitts are one of the most necessary equipment items for training in any combat sport. It is one of the best things for fighter conditioning and development. Punch mitts, also known as focus pad or focus mitts, are a crucial part of training from beginners to professionals. The fighter gains accuracy, timing, and speed while training with punch mitts.
Focus mitts assist a fighter in almost every way. It brings a fighter into a great rhythm and makes his stance better. Most significant is that the trainer finds where his fighter is doing wrong and where he is doing good. What helps the most a coach is that they altogether increase the precision of the fighters.
A good punch mitt should be shock absorbent, flexible, and jerk proof. It must be soft from the coach's end and somewhat hard where the fighter lands his strikes, it will save the trainer's hands and will strengthen the fighter's. Focus mitts must be well padded, if your mitts are not, sooner or later you are going to injure your hands and your partner/coach is also going to suffer from an aching. Less padding or low low-quality padding can cost the extra price as the pair would start to wear and tear a few days after starting the training.
Focus Mitts must be durable and long-lasting, as it has to go with many power sessions and a lot of strikes, its leather construction must be resilient, tough, and able to go with the prolonged use.
The curved design helps to go with the natural position of the hands of the trainer while ensuring that the center is not difficult to hit by the trainee. The target circle must be noticeable and should be in contrast color of the background so that the fighter finds it very easy to focus on and easy to hit during a workout. A good punching mitt must be sweat-resistant and odor-free. A proper ventilation scheme must be implemented in the pair.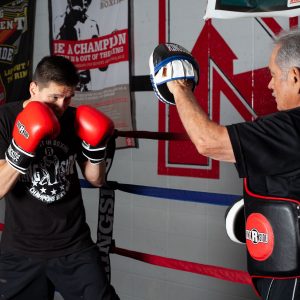 Training mitts should be of normal size, not too big that the fighter throws each punch with leisureliness and surety that in any case, it will land at the target, and it should not be too small that a power shot which missed the target lands on the wrist of the coach.
Focus mitts are used to train for a moving target, the coach chooses different points and calls the numbers to land the strikes. A heavy pair of focus mitts deteriorate hinders the workout as it would be difficult for a coach to move for the much time with this extra weight on the hands.
You can shop our available selection of Punch Mitts by clicking the link below. Ringside is the best in Boxing