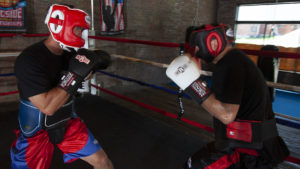 If you intend to spar or compete in the world of boxing, you'll need some headgear to protect your noggin.
At first glance, it doesn't seem like a very complicated decision. You pick out one that looks good and you go about your day. 
But then you get to thinking, this is something that's supposed to protect my face and my brain. Maybe I should put some more thought into this. 
If you've ever had questions about how to choose the best boxing headgear for your needs, then read on. 
As with choosing boxing gloves, you'll need to know why you're using the headgear to pick out the best headgear for you. Are you planning to compete at the amateur level or are you only going to spar at your local gym? What size are you and how intense are your sparring sessions?
If you know the answers to these questions, then you're ready to start looking for the right piece of headgear for your needs.
Basic Design
The basic design of a piece of headgear looks like a layer of padding that wraps around your head. It covers your forehead, your temples, your ears, and the back of your skull. 
Headgear can typically be adjusted at three different locations: under the chin, at the back of the head, and at the top of the head. 
From that basic design, many different variations have emerged.
Headgear Type
Are you looking for headgear for competition or sparring?
Competition headgear incorporates less padding than the kind of helmet you'd use in your sparring sessions. This makes it lighter, less bulky, and less of an impediment to your field of view.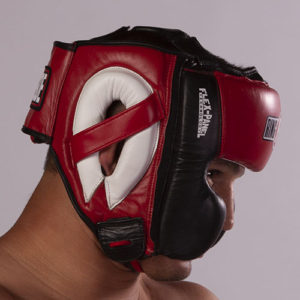 Most sanctioning bodies require that competition headgear be of an open face design, though many allow headgear with some cheek protection. Competition headgear must be certified by USA Boxing or AIBA and it must have a tag on it indicating this certification.
Masters Competition headgear comes in as a special sub-category. Amateur fighters aged 35+ are eligible to fight in the Masters class of tournaments (fighters aged 40+ can only fight in Masters class). The required headgear for the Masters incorporates thicker padding and larger cheek guards than the standard version. 
Sparring headgear includes pretty much every other kind of headgear out there. These helmets tend to have thicker padding and therefore be heavier than the competition styles. Theycan also include a number of protective features that we'll get into later. You'll want to choose a set of sparring headgear that meets the needs of the kind of sparring you do.
Headgear Facial Coverage Options
The basic design of the headgear, with protection only around the top of your head would be considered an open-face design. From here, most manufacturers and designers offer additional options for increased protection.
Cheek guards provide the simplest form of additional protection. As the name suggests, cheek guards bump out from the side of the helmet to cover the fighter's cheeks. This padding can save your face some impact, but could limit your vision depending on the size and thickness of the guard.
A Face Bar expands on the protection offered by the cheek guards by extending all the way across the face, protecting the nose as well.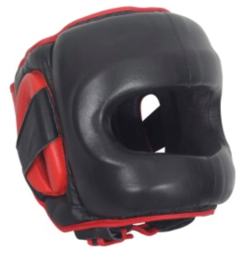 The Mouth/Chin Bar provides protection for the bottom of the face. Similar to the face bar, the mouth bar is a single piece that extends all the way across the face covering the mouth and chin. 
A Full Face headgear incorporates both the mouth bar and either cheek guards or a facebar. 
Some headgear also include a Face Cage or plastic face shield to provide 100% coverage of your face. In most cases for boxers, this will prove unnecessary. 
When choosing between these different options, always remember that you are making a trade-off between different performance aspects. Any additional protective feature you add will also add weight and potential reduce your field of vision. While it's important to protect your face and head from repeated impact, the number one best way to avoid injury is to not get hit in the first place. 
Headgear Fit
The headgear should feel snug but fit comfortably. There should be no parts that feel like they're pinching or squeezing tight. You'll want it to feel very secure when before you start exerting yourself, because you don't want it flopping around your head when you start sweating and moving. Make adjustments to your headgear's fasteners until it fits exactly right. 
Headgear Fasteners
As pointed out, boxing headgear can be adjusted, typically, in three different places.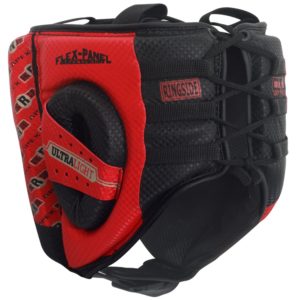 The chin strap fastener is typically either hook & loop, a plastic clip with slide adjuster, or a buckle style. Hook & loop is quick and convenient, but may lose effectiveness over time (especially if not kept clean). The plastic clip options is also pretty simple, but the slide adjuster can work itself loose over time. The belt-buckle style is the most secure, but offers less precision in fit, unless you make your own holes in the strap.
The back of the helmet and the top are managed by either a hook & loop system or a lace-up system. Hook & Loop systems are easy to adjust by yourself while you are wearing the headgear. H&L systems are less likely to loosen up over time. Lace-up systems can provide a more precise fit, allowing you to tighten or loosen the fit at specific points. For headgear, unlike lace up gloves, you don't need a second person to do this adjustment for you. But you might want to anyway. 
Now that you understand the most important aspects of headgear design, you should be ready to pick the best boxing headgear for you needs. 
If you still have questions, though, feel free to reach out to our customer service experts at customerservice@combatbrands.com to get more information. They're always ready to help out. 
Also, don't forget to sign up for our email newsletter if you haven't already subscribed to get access to more great information like this and great deals on all of our products.