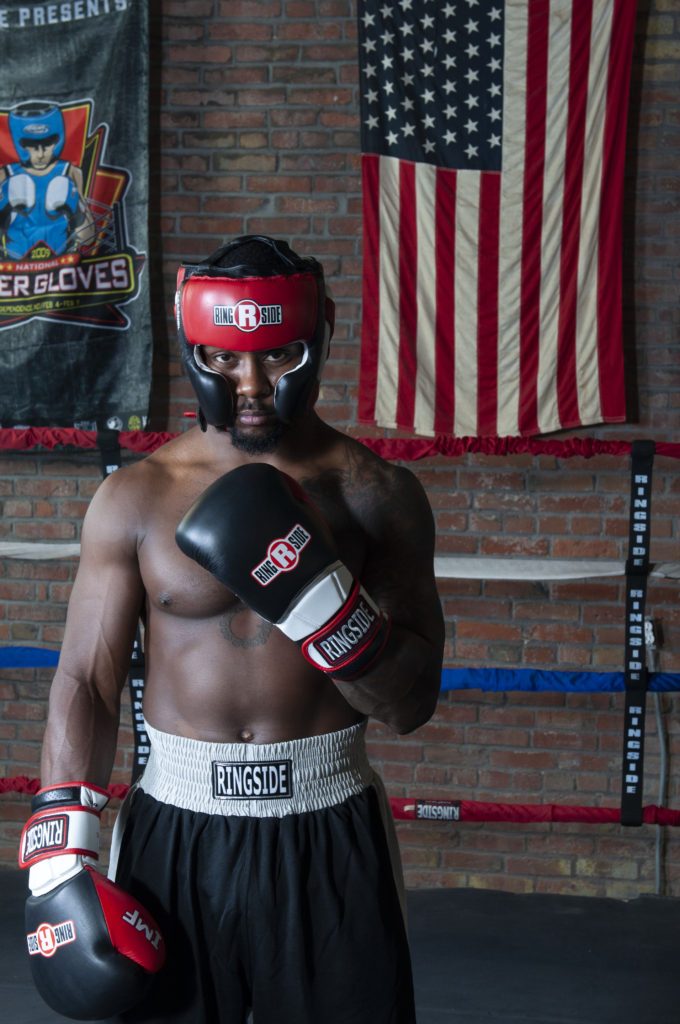 Details matter. How many times have you heard a parent, teacher, boss, or coach utter some variation of that during your formative years? How many times have you found it to be true? "A Lot" is probably the answer to both questions, and elite athletes often have to be super focused on the details to succeed.
Former NBA star Bill Bradley offers one of the best examples of this phenomenon. While home training in Missouri one summer, Bradley noticed many of his jump shots were sailing just a tad long. He eventually insisted the basket he was practicing on was not the regulation ten-feet tall. Turns out, he was right. It was shorter by an inch.
The lesson here is that for athletes of all ages and ability levels, you need to have and practice with the right size equipment to get better. With a particular emphasis on getting properly sized gloves, here's a look at why sizing matters when it comes to boxing equipment.
Gloves – They're Important
Comfortable, durable, and rightly sized gloves are a must-have for any boxer serious about improving. Consulting a gloves size chart is wise, as it offers guidance on your best bet for all different types of gloves.
To keep it simple, first measure the circumference of your dominant hand, just below the knuckles. This will help determine the general size of the glove you'll need. Whether you're a traditional boxer or prefer sliding on MMA gloves, you'll also need to take into account the intended use of the gloves and your body weight.
All-Purpose vs. Sparring vs. Competition Gloves
Many boxers have a pair of gloves they use for all training purposes. If you're mostly using the sport to get into or stay in shape, and have no plans to fight competitively, one pair is probably all you need. They will primarily be used for hitting the bags and occasionally sparring. This type of glove typically ranges from 12 to 18 ounces in weight, depending on your size.
If you plan to Spar regularly, however, you will want gloves specific to this purpose. Sparring gloves have extra-padding, making it less likely to hurt your sparring partner. Serious boxers should probably spar with gloves at competition weight, though many boxers will spar with heavier gloves so that their hands feel lighter during competition. Beginners should choose bigger gloves initially, as they will have less control and will benefit (or rather their sparring partner will benefit) from the increased protection.
Competition boxing gloves are used in the ring for both professional and amateur boxing. The weight class and competition certifying body dictate exact size specifications. Most of the time, your competition gloves will be lighter and have less exterior padding than your training gloves.  As we pointed out before, you'll want that reduced weight so that your hands feel faster when during competition. Competition gloves, despite being lighter, should still have more than enough padding to protect your hands.
Handwraps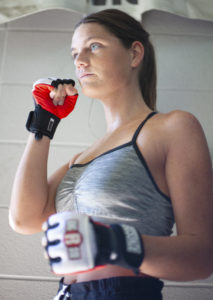 If you size gloves without your handwraps on, you've wasted your time. Handwraps are essential for keeping your hands strong and healthy whether you're training or competing. For traditional and mexican-style handwraps, you will generally select handwrap size based on your weight. For quick wraps and gel wraps, you will need to know your hand circumference. To obtain this, measure the circumference of your hand around the palm across the knuckles using a soft measuring tape.
Headgear
It's not entirely about the gloves. Paying attention to securing properly sized headgear is huge when it comes to boxing as safely as possible. Headgear sizes are based on your fitted hat size, which is obtained by measuring the circumference of your head approximately one inch above your ears. Those after a more custom fit can also check out our Flex-Panel Technology headgear.
Mouthguards
Mouthguard size is simply based on age. Age 11 or under will use a youth-sized mouthguard. All others will use an adult-sized mouthguard. Given the unique size and shape of each individual's mouth, guards are intended to be easily customized for each user. This is easy to accomplish by adjusting the fit with a pair of scissors.
Ankle Supports
We all know landing impactful punches is influenced greatly by a strong lower half, so you always want to make sure you're protecting your body from the waist down, too. One way to do this is by wearing ankle supports. Ankle supporting sizing is based on your shoe size for males and females.
Groin Protection
Regardless of your gender, groin protection is an important piece of equipment for sparring and competing. Wearing the wrong size or style of groin protector can hinder your movement, distract you in the ring and cause general discomfort. Make sure to choose a groin protector that is appropriate for your gender and waist size.
Shoes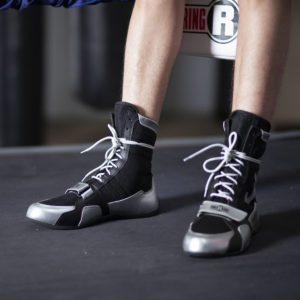 If you want to be a quick and agile boxer, wearing high-quality boxing shoes is essential. Boxing shoes provide much-needed ankle support while allowing you to remain light on your feet in the ring. They also have traction and sweat protection to keep you dry and sure-footed. Our boxing shoe sizes are based on standard US men's shoe sizing.