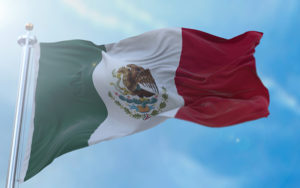 When Andy Ruiz, Jr. got the TKO against Anthony Joshua back in June, he made history. He became the first boxer of Mexican descent to win a world heavyweight championship in boxing. 
But Ruiz is just the latest in a long line of history-making boxers from Mexico. 
In honor of Mexican Independence Day we wanted to highlight some of the greatest Mexican and Mexican-American boxers to step into the ring.
Before we get started, we just want to make one thing clear. The following boxers are all unquestionably great, but they're presented in no particular order. We aren't trying to rank these guys or argue about who's better. 
And this certainly isn't a complete list. If we covered a few fighters every day for a month, we would still not have talked about all of the amazing fighters to come out of Mexico. 
What we wanted to do here, is present the tip of the iceberg: some of the most historic and electric fighters who possess Mexican heritage. If there are any fighters that you feel should get their due, please feel free to let us know in the comments.
Orlando Canizales
After securing the IBF Bantamweight title in 1988, Orlando Canizales held onto it through 16 defenses (a record for the division that still stands). He never lost at the 118 lb weight class. The title was ultimately vacated when he began fighting in a higher weight class at the end of 1994. 
He would fight at 122 lbs for the next several years, but would not claim another title. He retired to his hometown of Laredo, TX in 1999. 
An aggressive boxer-puncher, Canizales had a record of 50 wins in 57 fights with 37 KOs. He wasn't known for excelling in any one aspect of the sport (he wasn't the fastest or the hardest puncher or the most skilled), he combined what he had in order to dominate all challengers while he was in his prime. 
He was inducted into the International Boxing Hall of Fame in 2009.
Erik Morales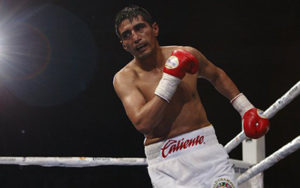 "El Terrible" was the first Mexican boxer to win world titles in four different weight classes. He claimed the WBC Super Bantamweight title in 1997, the WBC Featherweight title in 2000, the WBC/IBF Super Featherweight title in 2004, and the WBC Super Lightweight title in 2011 before finally retiring in 2012. 
Morales is well known for having defeated 15 world champions during the course of his career. The most notable of these victories was his win over Manny Pacquiao in 2005 to win the Super Featherweight titles. Many people remember this fight because Morales, who typically fights Orthodox, chose to reverse his stance and slug it out with Pacquiao for a brief period during the 12th round. 
A tall man, Morales typically fought as an out-boxer, using his long reach to his advantage. But, ever the showman, he would often choose to engage his opponents in a brawling style (as he did in the final round of his first match with Pacquiao) at various points in a given match to the delight of his fans. 
Morales retired in 2014 with a record of 52 wins (36 by knockout) and 9 losses.
Oscar de la Hoya
The media dubbed De La Hoya "The Golden Boy" during the 1992 Summer Olympics, as he marched his way to a gold medal in Barcelona. He's carried that name, for better or worse, throughout his boxing career, and into his post-boxing career as a fight promoter. 
The name isn't just for show though. At the time of this writing, BoxRec ranks De La Hoya as the 9th best boxer, pound for pound, of all time. During his career, he fought in six different weight classes (super featherweight through middleweight), earning a world title in each of them. He would face and defeat great, hall-of-fame fighters like Pernell Whitaker, Julio Cesar Chavez, and Hector Camacho. 
Not only was he one of the best boxers during his prime, but he was also one of the most popular. Until surpassed by Mayweather and Pacquiao, De La Hoya generated more pay-per-view income than any other fighter (approximately $700 million) before him.
Ruben Olivares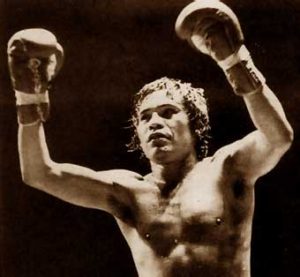 Olivares used his vicious power, especially his scary left hook, to dominate the world bantamweight division for a period in the early 70s. This was during an era when the Bantamweight division was packed to the rafters with talented fighters, many of whom hailed from Olivares' Mexico. While El Púas left behind a record of 89-13-3, his record at 118 pounds was 69-2-1. 
An aggressive, but well-balanced boxer-puncher, Olivares won 79 of his 89 victories by knockout. In fact, he would have two separate streaks of 20+ wins (22 the first time and 21 the second) by knockout during his career. Each streak, on its own, is ranked as one of the longest knockout streaks in the history of boxing. This is one reason that he is regularly regarded as the greatest bantamweight fighter of all time. 
While he would find success in the Featherweight divisions as well, even winning a world title twice, he was inducted in the Boxing Hall of Fame on primarily on the strength of his Bantamweight work alone.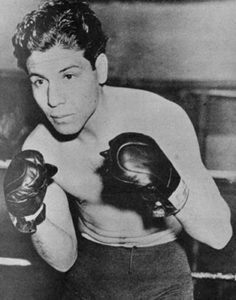 Manuel Ortiz
Another Bantamweight great, Ortiz won the world title (back when there each weight class only had one title) in 1942, defended it 15 times, lost the title to Harold Dade in 1947, regained the title in their rematch later that same year, and then defended the title four more times. 
Ortiz fought an impressive 131 bouts over his career, and is regularly regarded as one of the top Bantamweights of all time. While he had 28 losses, he has only one knockout loss on his record, a TKO from 1947 due to a cut. And he delivered a total of 54 knockouts during that career.
A fun piece of trivia, the Hall-of-Famer's profile on BoxRec.com carries the ID number of 000001. 
Salvador Sanchez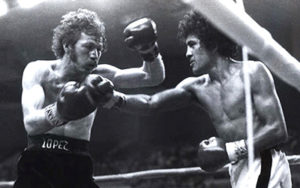 Despite a career that was cut short by his death in an car accident in 1982, Salvador Sanchez made an impact on the world of boxing. His skill and dominance during his seven years as a professional was enough to earn him a spot in the International Boxing Hall of Fame. 
Sanchez won the WBC and Lineal World Featherweight title in 1980 and successfully defended it nine times. At the time of his death, he was still the reigning champ. 
Sanchez fought in the Counterpuncher style. Unlike what we often think of, though, he didn't simply wait for his opponent to make a mistake and then counter. Sanchez was a master of using body movement and footwork to draw his opponents into bad positions. He would then counter, often with a left to the body, or a powerful, looping overhand right to the head. 
Julio Cesar Chavez
Possibly the best, and certainly one of the most popular, boxer ever to come out of Mexico. Julio Cesar Chavez boasted an amazing record of 107 wins over the course of 115 professional fights. 
Just to be clear about how amazing that record was, Chavez didn't earn his first professional loss until he had already notched 89 wins and 1 draw. And that draw? It had only occurred three fights earlier, against Pernell Whitaker in 1993. 
On top of an incredible win streak, Chavez also holds multiple records for most successful defense of a world title (27), most title fight victories (31), most fighters beaten fornthe title (31), and most title fights (37). He is second only to Joe Louis for number of title defenses won by knockout (21 to Louis' 23). His win over Greg Haugen in 1993 at the Estadio Azteca set the record for largest attendance for a boxing match (132,274). 
Chavez held six world titles in three different weight classes (super featherweight, lightweight, and light welterweight) and is ranked 10th by BoxRec as the best pound-for-pound fighter of all time. 
Chavez was an aggressive swarmer, with a great chin. He never shied away from getting inside his opponents' range. Once inside, though, he battered opponents with his powerful body shots in order to set up vicious punches to the head. It was with this style that Chavez announced himself on the world stage with his 2 round take-down of Roger Mayweather. 
It comes as no surprise that as soon as he was eligible, the International Boxing Hall of Fame inducted Chavez. He would join the hall as a part of the 2011 class.