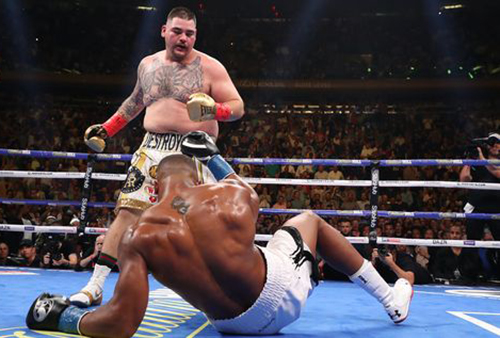 This guest blog comes from the folks at Tauro Sports. They reached out and said they wanted to do a profile of this rematch for our blog. See if they think history will repeat, or if the former champ will take back his belts.
Andy 'the Destroyer' Ruiz shocked the world a few months back when he dropped Anthony Joshua in the 7th round. 
But, Andy Ruiz is locked into a rematch with Anthony Joshua due to a contractual clause on the part of AJ. The boxing odds heavily favor Anthony Joshua in the second iteration of this fight, and most experts and pundits think that Joshua, being the great – former– champion that he is, will adjust and destroy 'the Destroyer' when they face-off once more.
Tyson Fury Weighs In
One champion boxer doesn't believe that. The Gypsy King, Tyson Fury, thinks that the odds being stacked against the new Unified Champion are not like loaded dice, but actually work in his favor. When Tyson Fury was asked about the possible outcome, he stated that he thinks it will go much the same as the first time around. Unless Anthony Joshua switches it up and boxes off his toes – "which we all know he can't do."
Let's start by stating that absolutely anything can happen in a heavyweight fight. With the amount of weight and power coming behind each swing of the fist, any fighter, no matter how talented is just one punch away from losing. Ok, with that out of the way, let's move on.
The Move to Saudi Arabia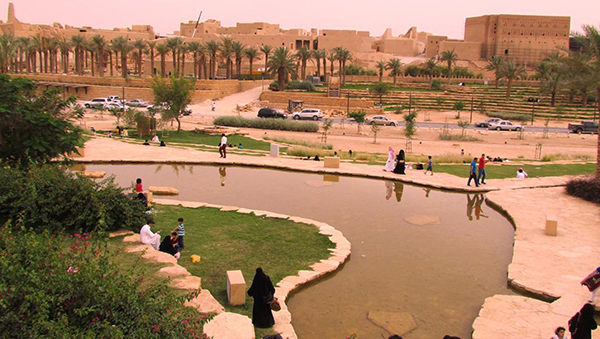 The fight's location may favor Andy Ruiz. Ruiz was against fighting in Saudi Arabia, but he apparently was compensated to take on the fight in the deserts of the middle east and agreed. When you think about it, he should have jumped on the chance. 
Ruiz is from Imperial, California and trained in Baja Calafornia. These areas are known for their hot climates. Saudi is hot, much, much warmer year-round than London, though a bit drier than either fighter's home region. 
In the month of December, the high-temperature averages around 80 degrees, but it can get much hotter. So, the environment may work to Ruiz's advantage if the fight goes to later rounds.
Joshua's Chin
Another thing to consider is Anthony Joshua's chin after being dropped to the canvas multiple times. It remains to be seen if there were any ill-effects after the hard shots landed in the first fight.. 
In the first fight, it was Ruiz who went down to the canvas first. But he never looked discombobulated or wobbly. He got right back up and went after AJ. This was in the third round, and it was amazing to see Ruiz put AJ down twice after just getting dropped himself. 
The main difference was that Ruiz was fine after his knockdown, but AJ was not. He didn't look the same for the rest of the fight. 
Predictions
Most think that Joshua will dance around Ruiz and pepper him for the entire fight, perhaps landing a knockdown shot, staying out of reach to win by points. We're not so sure. We do agree that if it goes to a decision, it will probably go AJ's way … but we think people are not giving Ruiz enough credit. 
Ruiz throws fast, hard punches, and he has a good ring IQ. He will find ways to cut Joshua off and get his shots in. And as we already said, there is a high likelihood of it being hot in Saudi Arabia. How long will a big heavyweight like AJ be able to dance around Ruiz and effectively avoid him? 
Our prediction is contrary to that of most. We think AJ goes down again and Anthony Ruiz retains his four, newly acquired belts.
If you want to learn more about upcoming fights, boxing fundamentals, or pick up new boxing gear, please contact our customer service department at customerservice@combatbrands.com. Or you can sign up for our email newsletter.